Testimonials
"I hope we can find other opportunities to work together in the future. I really love your art and your perspective."
Kim,

I know you are probably sick of me bugging you, but I have to tell you about the last couple of hours. I have been sitting here working in my office all day and the sun starting setting about 2:30pm. All the glass and metal work you did for me appeared in the sky right before my eyes! It was truly spectacular, energizing and heart lifting. I will forever be appreciative, grateful, and in love with you and your talent. Thank you so much, in so many small and huge happy ways!!
Vanessa, my daughter & I got to see the full sunlight on all four pieces at the same time early this morning. It lasted for 12 minutes.
Then we walked all around and watched the glass as the sun passed over it and disappeared.
It was as if we were watching the reflections of light off of a pile of brilliant diamonds that were in motion.
We were speechless. Then it was "look at this, look at that!"
WOW!
Thank you.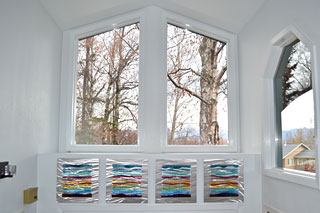 Another Sky, Another Sigh - Anchorage, AK
Fused Glass & Metal Wall Art

Hi Kim,
It arrived! I was like a little kid unwrapping it...and what a treat! I LOVE it! The pictures were great but in reality it is way better. I have it hanging on my wall already! I adore the way the colors change depending on the view...I can't stop staring at it!
Thanks so much for creating such a beautiful piece for me...I can't wait to have it hanging pride of place in my new apartment back in Edinburgh...it will bring back happy memories of beautiful New York every time I look at it.
Thank you also for allowing me to provide input into the creation process...it really does make it that much more special and personal to me.
Good luck with all your work and long may you continue creating such wonderful pieces!
Kind regards S.S. - New York, NY
---
Kim:
I wanted to let you know my wife definitely loved the surprise. I first showed it to the kids and they loved it! They then went to my wife to gush, etc. But, when she saw it she immediately loved it! I had it displayed on the carpet in its formation at the time.
When I put it on the wall it had even more impact.
We all love it and it did exactly what we wanted! It is beautiful and adds color and impact to our dining room... and the art can be seen from the dining room, kitchen, living room, and entry way.
I actually have a thought for another piece, but I want to draw something up and email it to you in order to see if it is doable or not.
B. A. - Colorado
---
Thank you! They are soooooooo WONDERFUL...thanks for sharing...you do not realize how touched I am and now reaffirmed about why I love your art. Keep that art going my dear...so proud of you....and so excited others appreciate what I appreciate that you create...
Sue K. - WA
---
Hello Kim!
Here are a couple pictures of our room! Don't they just look great!?!?! We are ecstatic with them. Whenever we have people over I drag them up to my room to show off my art glass. They probably think I am crazy, but it is just so pretty!
Kim M. - Des Moines, Iowa
---
Here are a few pictures after the "Reflections of Mission" Art was installed. It looks so pretty, ties in naturally with our Mission theme. We have gotten rave reviews from individuals about the Art pieces. Thank you again so much for making our game room a little more special.
Nina C. - AR
---
We love them and they are hanging over our stove as though they were made to go there! Imagine that. When I get a chance, I'll remember to take a picture of them for you.
Thanks again.
Marnie H. - WA
---
Your art is beautiful, elegant, stunning.
Roxanne L.
---
The pieces have all arrived safely. They are laying on our pool table awaiting installation tomorrow. They are so pretty. Thank you for capturing our theme. They truly are amazing pieces of art.
Nina C. - AR
---
Your glass work is wonderful! And, the plates are really lovely and wonderful, too! You are so great that you have turned an ordinary glass into such marvelous piece of art.
Thank you, Kim.
Grace L. - Singapore
---
Your glass art is AWESOME!!!! Thank you for making my space so unique.
Carolyn C.
---
Kim
Thanks again for the wonderful effort and beautiful pieces of art!!!
Looking forward to our future endeavor. Keep me in mind.
Thanks for all you do.
Greg W. - WA
---
I'm very *excited* about receiving them, so I don't want to cause any delay. It has been fun receiving all of the progress photos, but it will also be fun to be surprised with the final product. I can already tell from your last set of photos that I will indeed love them.
---
Thank you Kim.
Your art is beautiful! I will continue to review your website and save up for a special piece.
Thank you and best of luck with your wonderful gift.
Mahalo, Anne
---
OMIGOSH. Your art is amazing!
Sharon J.
---
Well, as you can see the pieces are now hanging up. As I thought, they look absolutely stunning. We both love them and they are a beautiful addition to our home that we will treasure.
If ever I have a client in my interior design work that is in need of some special art piece, I will be sure to tell them about you.
Helen C.
---
Wanted to let you know Sun Kissed arrived safe and sound. I should have taken a valium before I started. It was like Christmas. I could hardly contain my excitement and just wanted to rip into it! I was good though. It is so beautiful! I can't wait to get it home and hang it up!
Thanks again for sharing your talent!
Sherri C. - NJ
---
.. they are so beautiful, and I'm sure you will create another as beautiful if not more so.
Helen P. - NH
---
OMG.....they are really gorgeous!!!! I love the depth that is created here.
This has really been a great experience working with you. I've enjoyed it.
They look just beautiful!!!! The colors are gorgeous. You can tell that the background shows thru the glass in places.
Dorothy G. - WI
---
Kim, we love it - arrived unscathed - thanks so much!
Richard and Cindy C. - Branford, CT
---
It looks GORGEOUS!! As it should, since it represents the Gorge. You did a fantastic job. It is really beautiful.
Thank you for making something so beautiful for us – I can't wait to hang it. I will take some pictures of it when it gets to its new home so you can see it there.
Janetta S. - WA
---
Kim,
Thanks for the lovely pieces of art.
I hope we can find other opportunities to work together in the future. I really love your art and your perspective.
Lowell R
---
I cannot believe this. You are a master! This piece is so incredibly beautiful, it actually brought tears to my eyes. Kim, the colors work so perfectly together and that turquoise was a stroke of genius! The whole piece is so alive!
Your glass scapes online were all very beautiful, what attracted me in the first place. But this one is perfect and personal to ME, and I am honored to have it. I hope you took a picture - you should show it off online.
Oh, by the way, it came in perfect condition - no damage. It really was packed well.
Thank you for this whole experience. You really seemed to get what I was looking for - and then went about creating it for me. It couldn't have worked better......
I can't wait to show it off to my friends and family and will be more than happy to sing your praises and send people your way. Hell, once I move, I may be coming back your way MYSELF...... So don't be surprised if you hear from me again...
Thank you so much, Kim.
Sandi Y.- N.C.
---
Kim,
I forgot how beautiful your artwork is. "Sea Things" is hanging in my bathroom and is beautiful. The other piece is on the cocktail table in the living room.
Thanks again,
E.G. - NJ
---
We are very excited about the art piece that you are creating for us and enjoy watching it be "born" - because once you've seen the gold standard...it's hard to step back and accept anything else.
K.F & S. F. - Jacksonville, FL
---