White House Ornament


By Linda Tarr | For The Olympian • Published December 06, 2008
White House is new home for Evergreen grad's decoration.
White House is new home for Evergreen grad's decoration.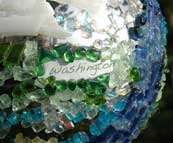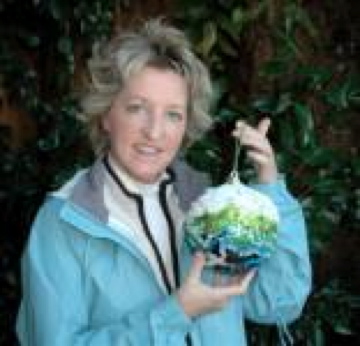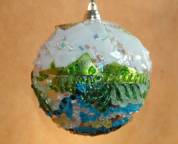 Art created by an Evergreen State College alumna became part of the traditional White House holiday celebration this week.
Olympia glass artist Kim Merriman's ornament adorns the White House tree, and will remain catalogued and stored in Washington, D.C., after the holiday season.
"I'm very excited to be part of it," Merriman said. "It's a thrill. The whole White House is this huge decoration with lots of tradition from many, many, many decades. To be just a little tiny part of that was quite a moment."
Congressman Brian Baird, D-Wash., asked Merriman to create the Third District ornament.
This is the first year the White House invited members of the House of Representatives to contribute to the White House tree by selecting an artist, according to a news release from Baird's office.
"From the Cascades to the coast, Southwest Washington is blessed with some of the most beautiful country in the nation," Baird said in a news release.
"Kim has captured that beauty in her design, and I'm proud to see Southwest Washington represented on the White House tree," he said.
The theme for this year's ornaments is red, white and blue. Merriman said the ornament is mostly blue on the bottom to represent the Pacific Ocean. An upward swirl of blue represents the rivers in the area. This ends at the base of white mountains to evoke Mount St. Helens. Small red specks in the rivers represent the salmon run.
"On top around the back side of the mountain red chunks of glass represent the kinds of sunsets we have here," Merriman said.
She is well-known for her glass wall art, which integrates custom-made fused glass with steel, copper, brass or aluminum.
She uses iridescent glass and brushed metals with reflective qualities to make colors look different when viewed straight on versus at an angle. They also vary when lit with sunlight or an artificial spotlight.
"They're alive," she said. "They are ever-changing."
Glass artist's ornament in Washington, D.C.
Her art is commissioned worldwide - recently as far away as Singapore. This year, she also designed eight large sculptures for the new Bellin Health Corporation oncology center in Wisconsin.
Aside from the thrill of being selected to represent her district via art, Merriman loves the fact that a "Greener grad" produced the piece.
"It's one of those full circle moments," she said. "Those serve as markers in our lives that are really important moments to us."
Merriman graduated from Evergreen and was hired shortly thereafter in 1994 as Evergreen's director of government relations. She held the post for seven years before beginning her art career.
Merriman also is no stranger to politics. She spent more than a decade working for the Washington State Senate prior to becoming a "mature student" at Evergreen. She actively participates in local issues as a citizen, from land use to critical areas to geoduck harvesting policies.
"I find it fascinating, and I think it's really important that people, if they can, are involved in helping shape public policy and shape the places they live," she said.
Her art career began at home in 2000. She decided to take a welding class at Evergreen so she could create a screen to hide utility boxes and other unsightly, though necessary, items in her entryway.
"That first night I came home from that class and said to husband, 'I'm going to go buy all this equipment and be a welder," she said. "His eyes glazed over with a look of, 'She kind of looks like my wife but something thing happened to her between time she went to the college and the time she came home.' He thought it would pass."
It did not. After creating outdoor art for a time, Merriman switched to indoor pieces.
"I traded in power suits and heels for power tools and steel," she said.