Commercial Glass Wall Art Installations
Kim feels honored to have been commissioned to work with interior designers and architects to create special glass and metal sculptures for health care facilities. She finds it very rewarding to take the concepts, site specifications, and client interests and bring them to completion. To create ever-changing health care fine artwork as part of the healing space(s) for patients, their families and other visitors as well is a personal and professional gift.
Below are samples of Health Care Fine Art installations.
Click Image to enlarge.
"Evidence-based design stems from the recognition that the physical environment can have a measurable influence on our well-being."
Northwest Kidney Centers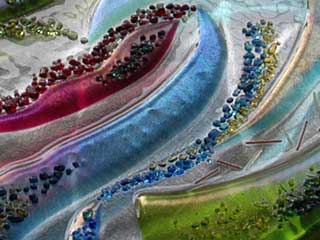 Fused Glass & Brushed Aluminum Triptych Detail
Bellin Health
Veteran's Affairs Hospital, Tacoma, WA
"One of the doctors thanked me for the art; he said it changes the way the residents feel about their space." "I'm honored to be part of a healing space."