Commission Information
"Thank you for allowing me to provide input into the creation process...
it really does make it that much more special and personal to me"
Glass Wall Art Interior Design Possibilities
Bring your ideas to life... for your interior design, or public space.
A little bit about commissioning Kim Merriman's art…….
Every piece created is an original.
Kim specializes in site-specific designs and custom sculptures for clients, taking into consideration many factors before a final design is determined: scale of the space, style, lighting, etc. When they want, some clients (commercial and residential) send photographs or specifications of the space - along with anything else to have taken into consideration: i.e. fabric swatches, paint chips, light source, color scheme, etc.
All those things are used as points of departure to help come up with the ultimate design. Or, if a client has seen something on the website, that is of particular interest, that's a place to start, too. All of those factors are part of the process in creating something that not only fits the size, colors and style preference, but hopefully fits within the designated budget range as well.
Although most of her work is by commission, she often has a limited number of "in stock" pieces available for purchase.
Her work is sold exclusive through the art studio.
Since each piece is an original, pricing is based on many factors. For pricing inquiries, please contact the artist.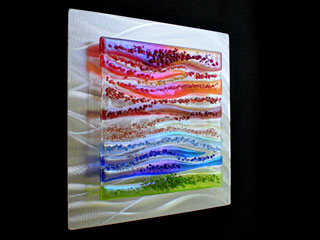 Sun Meets The Shore II
30" X 30" X 3"
Fused Glass & Brushed Aluminum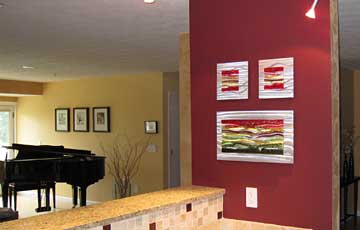 "Summer's Eve"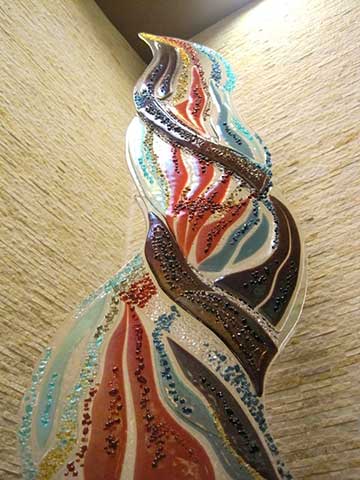 "Curvaceous"